Proud of our references
Since 2017, we've been serving expatriates from (almost) all over the world.

We've been iterating and refining our approach and french classes content thanks to their feedbacks. Our greatest rewards to continously make our learning experience even better.
See our references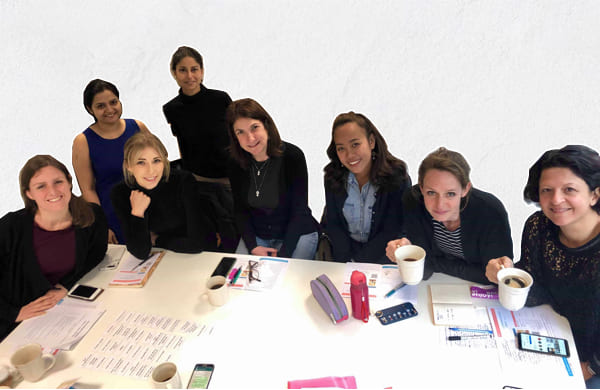 Andi is a psychotherapist in California and in Paris. She is an alumni of the promotion#3 of our FrenchBooster Program on Saturday mornings.
Nathalie teaches to children in a French school in Barcelona. She needed to feel more confident with the language in her working environment. She had a couple of online bespoke French classes packages with us.
Nicolle decided to retire in France. She wanted to delve in the French culture and feel more confident in French. She's an alumni of the promotion#1 of our FrenchBooster Program on Saturday mornings.
Molly moves to Saint-Cloud with her family less than a year ago. She is a true foodista and a passionate and successful food blogger.
Chris used to work in France for 5 years as a remote software engineer. Even if he already had a good fluency in French, he wanted to feel even more comfortable to speak naturally with his French friends and colleagues in Paris. At the end of his training, he passed the C1 French DCL exam. He is now back in the U.S. with his family.
Wubke's family settled in Saint-Germain-en-Laye 2 years ago and work here as a talented illustrator. Wubke is an alumni of the promotion#5 of our FrenchBooster Program on Monday mornings.
Joni manages the French offices of an international NGO. She is an alumni of the promotion#2 of our FrenchBooster Program and kept learning French with us through a bespoke French classes package with her colleague.
Liege has a high-responsibility position in the Parisian headquarters of a worlwide law consulting company. She travels a lot throughout Europe but she managed to keep some time to take FrenchUp courses with us.
Heather is an alumni of the promotion#2 of our FrenchBooster Program on Saturday mornings. She kept having bespoke French classes with us until she moved to Lyon.
Kerry came to France with her husband. In so little as 2 years, she became more familiar with Paris than most of the Parisians! She took a couple of our 30h FrenchUp courses.
You can trust us.
And check client word.
Learning French turns out to be a travel adventure. Fabienne's classes are shaped with a definite structure that covers all the relevant subjects I want to be able to communicate about, but she makes it feel flexible, and adapted to those of us in the room. It's been really fun, and funny to be there — lots of humor and popular culture and learning about French movies and Parisienne mindset. It's the kind of class you go to, and then want to keep studying with her. She's always in good spirits and very encouraging.
Fantastic experience through Skype. Classes came out to be very useful, convenient and totally adapted to my needs. [...] This way, I could easily managed my job and my French classes.
Fabulous people... Absolutely interested in helping people to learn French and the French culture... I look forward to further interactions with them !
Highly recommend the Novexpat FrenchBooster class! Fabienne is knowledgeable and so supportive, and the small class size is ideal for learning and practicing conversation. The online component is also very useful and well done. Excellent class!
I really can't say enough good things about Novexpat. Over my ~5 years in Paris, I studied at multiple schools, meetups, etc. Novexpat was the best by far! Everything I was taught was super relevant, practical, and immediately useful. My only regret is that I didn't start studying with them sooner!
Sign up for the FrenchBooster programme, I garantee you'll have a great experience! I loved my time with Novexpat as I feel comfortable now to speak french !
Incredible! Very practical and helpful. My French friends have commented on my increased language confidence.
My French teacher was great and created a brilliant atmosphere to learn and have fun! I highly recommend it.
Fabienne and the Novexpat team are changing the way people learn French. Her methods go far beyond teaching grammar and conjugations; they teach you the living language - that which is most relevant to adapting and integrating into the French culture. I can't say enough about how much and how quickly I learned - and how enjoyable the lessons have been! I see Fabienne for private lessons now but the French Booster course was so good, I plan to take it a second time!
I was a complete beginner and so nervous to even try but with Fabienne's help and in very little time I have learnt the basics and am confident enough to engage with my new community.
These words proceed from a random sample of our alumni's feedbacks, sourced from our social networks.
They already trusted us
for helping their staff with their French
As an authorized vocational training organization, we are able to work with businesses, embassies, international organizations, networks for expats and individuals. We are listed on the French Datadock system and we own the Qualiopi certificate which enables you or your HR officer to request subsidy from your OPCO.
They warmly support us
We love what they do and they love our French teaching services to expatriates in Paris.