Proud of our references
Since 2017, we've been serving expatriates from (almost) all over the world.

We've been iterating and refining our approach and french classes content thanks to their feedbacks. Our greatest rewards to continously make our learning experience even better.
See our references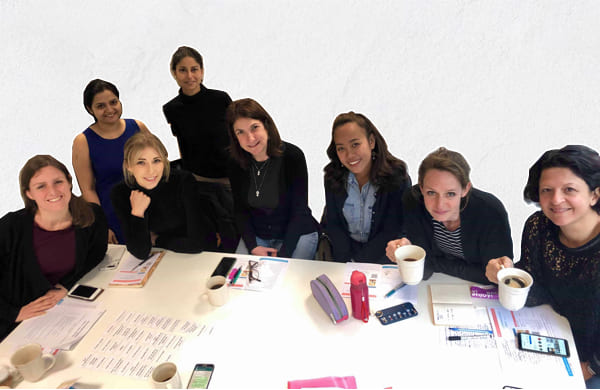 Liege has a high-responsibility position in the Parisian headquarters of a worlwide law consulting company. She travels a lot throughout Europe but she managed to keep some time to take FrenchUp courses with us.
Nicola works in an international school as an English teacher and lives in Paris with her daughter who attends a French school. She is an alumni of the promotion#1 of the FrenchBooster Programme
Kate works in an American Business school in Paris. She is an alumni of the promotion#1 of the FrenchBooster Programme.
Gabriele decided to change her life and moved to Paris a couple of years ago. She now takes care of the children of a franco-german family and fulfills her dream to live in Paris. She attended the promotion#2 of the FrenchBooster Programme.
Mark managed the British customs office in France and sustained daily interactions with the French customs. We helped him with his French language and culture skills through 1-on-1 bespoke French classes.
Haley co-founded a video making company in the U.S. With her husband, she moved to Paris to raise their children and work remotely. Halay is an alumni of the promotion#5 of our FrenchBooster Program on Monday mornings. She kept having FrenchUp classes with us.
Heather is an alumni of the promotion#2 of our FrenchBooster Program on Saturday mornings. She kept having bespoke French classes with us until she moved to Lyon.
Nathalie teaches to children in a French school in Barcelona. She needed to feel more confident with the language in her working environment. She had a couple of online bespoke French classes packages with us.
Kerry came to France with her husband. In so little as 2 years, she became more familiar with Paris than most of the Parisians! She took a couple of our 30h FrenchUp courses.
Joni manages the French offices of an international NGO. She is an alumni of the promotion#2 of our FrenchBooster Program and kept learning French with us through a bespoke French classes package with her colleague.
You can trust us.
And check client word.
My French teacher was great and created a brilliant atmosphere to learn and have fun! I highly recommend it.
My one to one lessons with Fabienne have truly been a wonderful experience. She takes learning off the page. Her holistic approach to teaching has allowed me to progress quickly, as each lesson is tailored perfectly to my individual needs. Her warm and vibrant personality brings her lessons to life along with her passion and expertise.
C'était tellement excellent ! I enjoyed so much the lessons. Fabienne is such an awesome French teacher! Merci à vous, Fabienne et Pierre-Yves !
Merveilleux! J'ai bien aimé apprendre avec Fabienne. Les cours étaient très bien preparés et j'ai apprécie beaucoup tout le travail qu'elle a consacré à la formation. J'ai apprécie la diversité des sujets abordés et la richesse du vocabulaire et des expressions du langage courant. Cela m'a permis de capter des dialogues dans la vie quotidienne.
My teacher devised a bespoke learning programme that incorporated my interests and my area of work to progress my written, oral and aural understanding of French. She utilises a range of teaching methods and materials, all carefully prepared to progress my understanding of French in a manner that is both informative and fun.
I have loved my one-on-one classes with Novexpat! My tutor is extremely patient and allows me to ask as many questions as I wish and also makes me feel extremely comfortable and confident. The learning style behind Novexpat is very practical as the material you learn caters to everyday life and phrases/concepts you can put to use immediately. I also really enjoy the online app and learning platform to help study, it's very convenient that it is specified to each individual lesson. I am so grateful that I discovered Novexpat!
Fabienne and the Novexpat team are changing the way people learn French. Her methods go far beyond teaching grammar and conjugations; they teach you the living language - that which is most relevant to adapting and integrating into the French culture. I can't say enough about how much and how quickly I learned - and how enjoyable the lessons have been! I see Fabienne for private lessons now but the French Booster course was so good, I plan to take it a second time!
Fantastic experience through Skype. Classes came out to be very useful, convenient and totally adapted to my needs. [...] This way, I could easily managed my job and my French classes.
I was a complete beginner and so nervous to even try but with Fabienne's help and in very little time I have learnt the basics and am confident enough to engage with my new community.
Incredible! Very practical and helpful. My French friends have commented on my increased language confidence.
These words proceed from a random sample of our alumni's feedbacks, sourced from our social networks.
They already trusted us
for helping their staff with their French
As an authorized vocational training organization, we are able to work with businesses, embassies, international organizations, networks for expats and individuals. We are listed on the French Datadock system which enables you or your HR officer to request subsidy from your OPCA.
They warmly support us
We love what they do and they love our French teaching services to expatriates in Paris.