FrenchBooster Program
A 2-month French course to scale up your French conversational skills on daily-life related topics through weekly small-group and 1-on-1 French classes.
1 group currently open to application • See details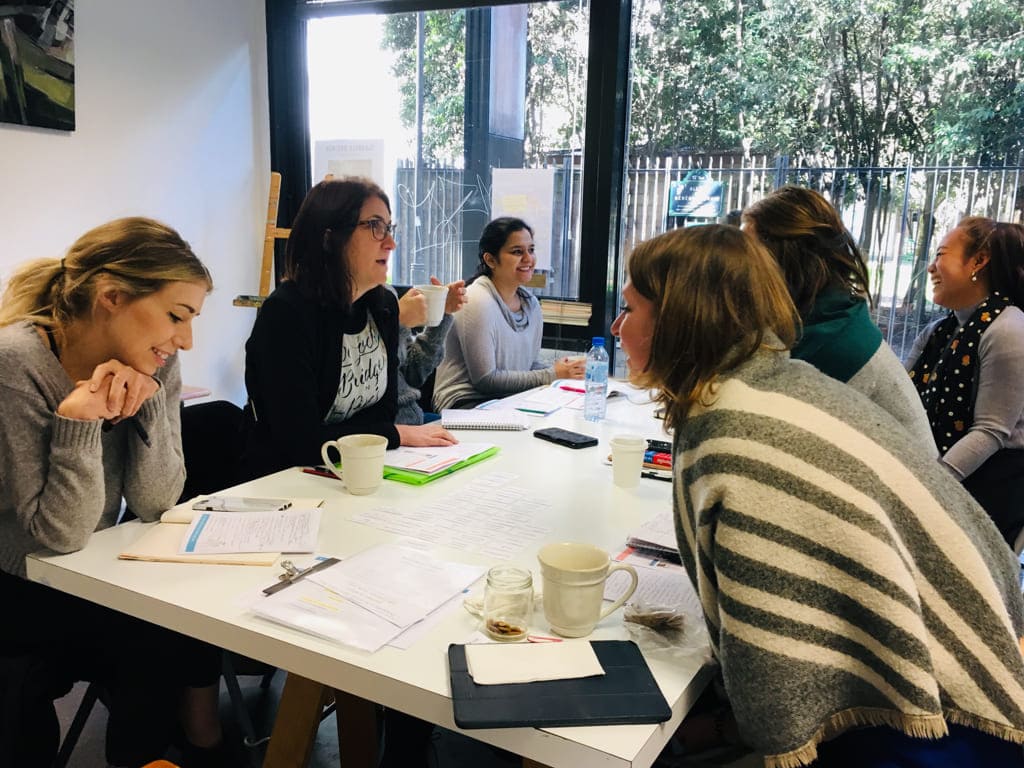 Duration:
27 hours in 2 months
French level prerequisite:
Lower intermediate (A2)
Intermediate (B1)
Upper Intermediate (B2)
Participants:
4 to 6 participants per group
must be over 18 years old
Location:
Paris • Saint-Germain-en-Laye • on-site or online
The FrenchBooster Program in short
Break through

your French fluency plateau.

Since 2018, our FrenchBooster Program helps expatriates in Paris rapidly scale up their conversation and comprehension skills as well as their understanding of the French cultural and social codes so they can easily connect with French native speakers and better adjust to life in Paris.
This French language course is suitable for expatriates, diplomats and expatriates' spouses/partners.
Main objectives

of the course

Functional Language

Comprehension & Accent

Cultural codes

Confidence & Spontaneity

Each class is devoted to one major area of everyday conversation. You will be focusing on learning, practicing and assimilating practical vocabulary, idioms and sentence structures that you will be able to understand and use to have more natural conversations on that very particular topic, in any daily-life related situations.

Learn Practical & Natural Vocabulary

,

Idioms and Sentence Structures

During each face-to-face class, you will get plenty of exercises and tips to brush up your French accent and help you significantly better understand native French speakers.
 After each class, you will be provided with additional oral comprehension tests
 and selected resources to help you keep practicing further on your own.

Improve your French

comprehension skills & accent

Question, step back and increase your understanding of Parisian lifestyle, cultural codes and speech patterns. For each topic addressed during the class, you will get actionable insights that reflect of the Parisian society and lifestyle. After each class, a selected range of additional online resources will help you delve further into the French cultural codes and topics.

Increase your cultural understanding

of Parisian society & lifestyle

The FrenchBooster program is open to 6 participants. This is a perfect size for conducting highly interactive guided and authentic conversational activities. You will have plenty of room to practice and use the new concepts and to train yourself in starting and driving daily conversations with more confidence and spontaneity.

Gain more confidence and spontaneity

in your day-to-day conversations
Course learning journey
The FrenchBooster program is a winning combination of 3 sequences : weekly small-group sessions with highly participative activities, individual French coaching sessions to tackle your unique challenges and optional individual work on our in-house learning web app to practice and delve further into new concepts.
8 weekly small-group sessions
24h
Each small-group weekly session is devoted to one major area of everyday conversation. It's the starting point to learn, practice and master new vocabulary, concepts and social codes.
Every session is based on a structured, stimulating and progressive learning process. Each person has a chance to speak and participate extensively within the group and gets personalized feedback from the teacher.
A learning booklet is issued and given to each participant at the start of each small-group class.
2 private 1-on-1 classes
3h
Each 1-on-1 private classes is focused on tackling your specific priorities and challenges: a persistent French language difficulty, a topic that you need to master, adopting new learning strategies, catching up on any missed small group sessions, practicing French at a Parisian museum, etc.
This is no improvised lesson. Your tutor will design a bespoke French curriculum for each of your 1-on-1 private classes.
1-on-1 French classes can be taken before the end of the FrenchBooster course either at your home, office, at one of our selected trendy and quiet Parisian cafés or event at a Parisian museum!
Online access to further challenges and resources
~30mn to 3h per session
After each session, you will have access to additional exercises, flashcards, quizzes, helpful and practical resources to memorize and assimilate the new concepts learnt during the class & to futher delve into the related topic. This optional guided homework assignment will help you take maximum advantage of your French lessons.
Our alumni continue to have an unrestricted access to our web app at least 1 year after their programme has ended.
Incredible! Very practical and helpful. My French friends have commented on my increased language confidence.
Highly recommend the Novexpat FrenchBooster class! Fabienne is knowledgeable and so supportive, and the small class size is ideal for learning and practicing conversation. The online component is also very useful and well done. Excellent class!
I loved the variety of the French Booster. It was intense but I was never bored! The standard of teaching was outstanding. A very well devised course that I would recommend for anyone at intermediate level!
The classes are interactive and fun and the teacher is always positive and encouraging. I also enjoy using 'Neo', their education platform that has fun exercises that give great insights to the French language and culture.
Learning French turns out to be a travel adventure. The classes are shaped with a definite structure that covers all the relevant subjects I want to be able to communicate about.
What a difference this class made. I felt more french and more confident with each lesson. Each week I learned useful everyday words and expressions that I used the minute I left the class.
I did the FrenchBooster when I moved to Paris. I really enjoyed the course and learned a lot in a short time. What makes novexpat's lessons so fun is that they are about everyday life. What you learn is immediately applicable.
Our students are open minded, curious and highly motivated expatriates and visitors, coming from countries all over the world. They have various backgrounds (business professionals, entrepreneurs, MBA students, expats' life spouses/partners, freelancers…). Some have already been living in France for a long time, others have just arrived or are visiting. An outstanding opportunity to meet like-minded people, share tips and even make new friends.
Upcoming sessions
SPRING 2023 IN PARIS • ON-SITE
Weekly group sessions
on
Tuesdays

-

27h

-

4 > 6 pax
Period of classes
May 16, 2023
July 4, 2023
FrenchBooster Program | Paris • on-site |
27h
May 16, 2023
July 4, 2023
8 x 3h
small-group sessions

scheduled on

Tuesdays
May 16, 2023
May 23, 2023
May 30, 2023
June 6, 2023
June 13, 2023
June 20, 2023
June 27, 2023
July 4, 2023

🙌 No session is planned during school holidays
We strongly advise you to be available for at least 6 group sessions.
You will be able to catch up though any missed group session through our online platform and/or your 1-on-1 French classes.
⚠️ We are closely monitoring the status of COVID-19 and strictly applying recommendations from the French government and public health authorities. As a consequence, on-site group classes could be switched back to a remote format if required.
2 x 1.5h
1-on-1 French classes
To be scheduled with your teacher before July 4, 2023.
Individual classes take place at your home, office, selected cafés or in remote.
Unlimited access
to Neo, our online platform
~30mn to 3h online helpful and practical learning resources and exercices to help you memorize and assimilate the new concepts learnt during each class & to futher delve into the related topic.
Unrestricted access for at least 1 year after the program ends.
Payable in up to 3 installments
Ready to break through your French fluency plateau?
For deeper insights and more Q/A about the FrenchBooster Program before applying:
Show us your interest starting our free and non-binding application process. We will get in touch with you to schedule a free interview to meet each other, make sure the program can match your goals and needs and answer any specific questions you might still have.
Please allow a usual delay of up to 5 days between your online application and the actual start of your course.
Apply now
For deeper insights and more Q/A about the FrenchBooster Program before applying:
The FrenchBooster Programme Syllabus
All you might want to know about the programme