FrenchBooster Program
A 2-month French course to scale up your French conversational skills on daily-life related topics through weekly small-group and 1-on-1 French classes.
Apply now
Download syllabus
1 group currently open to application • See details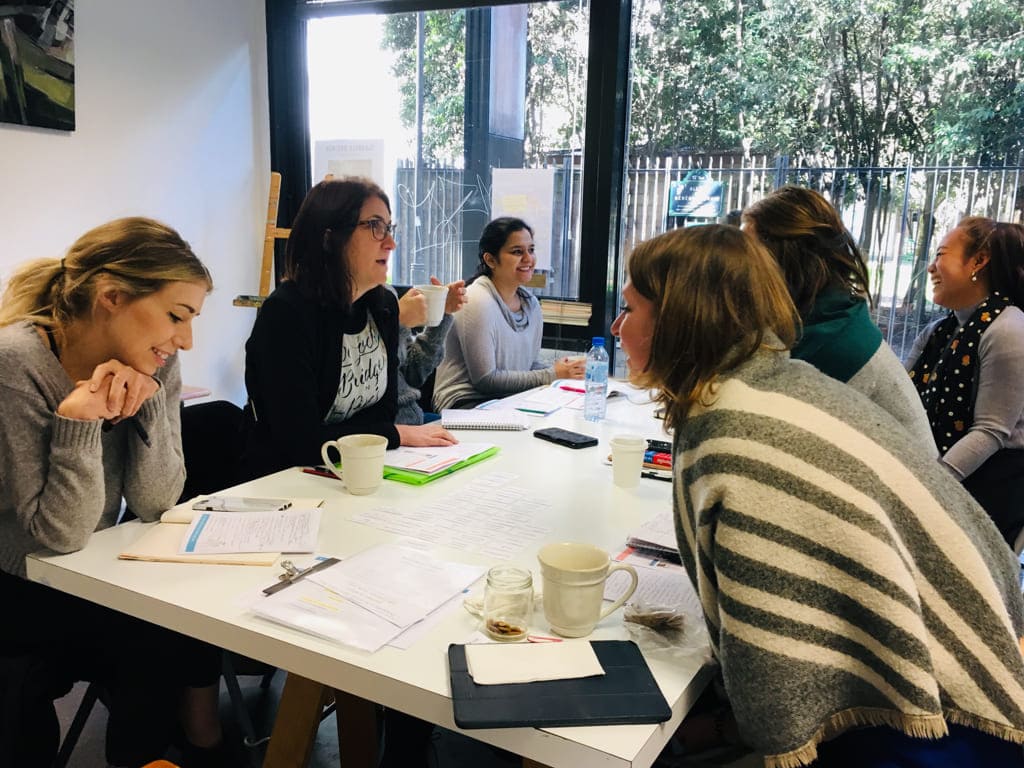 Upcoming sessions
WINTER 2024 IN PARIS • ON-SITE
Weekly group sessions
on
Tuesdays

-

27h

-

4 > 6 pax
Period of classes
January 30, 2024
April 2, 2024
FrenchBooster Program | Paris • on-site |
27h
January 30, 2024
April 2, 2024
8 x 3h
small-group sessions

scheduled on

Tuesdays
January 30, 2024
February 6, 2024
February 27, 2024
March 5, 2024
March 12, 2024
March 19, 2024
March 26, 2024
April 2, 2024

🙌 No session is planned during school holidays
We strongly advise you to be available for at least 6 group sessions.
You will be able to catch up though any missed group session through our online platform and/or your 1-on-1 French classes.
⚠️ We are closely monitoring the status of COVID-19 and strictly applying recommendations from the French government and public health authorities. As a consequence, on-site group classes could be switched back to a remote format if required.
2 x 1.5h
1-on-1 French classes
To be scheduled with your teacher before April 2, 2024.
Individual classes take place at your home, office, selected cafés or in remote.
Unlimited access
to Neo, our online platform
~30mn to 3h online helpful and practical learning resources and exercices to help you memorize and assimilate the new concepts learnt during each class & to futher delve into the related topic.
Unrestricted access for at least 1 year after the program ends.
Payable in up to 3 installments
Duration:
27 hours in 2 months
French level prerequisite:
Lower intermediate (A2)
Intermediate (B1)
Upper Intermediate (B2)
Participants:
4 to 6 participants per group
must be over 18 years old
Location:
Paris • Saint-Germain-en-Laye • on-site or online
The FrenchBooster Program in short
Break through

your French fluency plateau

Since 2018, our FrenchBooster Program helps expatriates in Paris rapidly scale up their conversation and comprehension skills as well as their understanding of the French cultural and social codes so they can easily connect with French native speakers and better adjust to life in Paris.
This French language course is suitable for expatriates, diplomats and expatriates' spouses/partners.
Main objectives

of the course

Functional Language

Comprehension & Accent

Cultural codes

Confidence & Spontaneity

Each class is devoted to one major area of everyday conversation. You will be focusing on learning, practicing and assimilating practical vocabulary, idioms and sentence structures that you will be able to understand and use to have more natural conversations on that very particular topic, in any daily-life related situations.

Learn Practical & Natural Vocabulary

,

Idioms and Sentence Structures

During each face-to-face class, you will get plenty of exercises and tips to brush up your French accent and help you significantly better understand native French speakers. After each class, you will be provided with additional oral comprehension tests and selected resources to help you keep practicing further on your own.

Improve your French

comprehension skills & accent

Question, step back and increase your understanding of Parisian lifestyle, cultural codes and speech patterns. For each topic addressed during the class, you will get actionable insights that reflect of the Parisian society and lifestyle. After each class, a selected range of additional online resources will help you delve further into the French cultural codes and topics.

Increase your cultural understanding

of Parisian society & lifestyle

The FrenchBooster program is open to 6 participants. This is a perfect size for conducting highly interactive guided and authentic conversational activities. You will have plenty of room to practice and use the new concepts and to train yourself in starting and driving daily conversations with more confidence and spontaneity.

Gain more confidence and spontaneity

in your day-to-day conversations
Course Organization
Embark on an engaging French learning journey
The FrenchBooster program combines three powerful sequences: interactive small-group sessions with highly participative activities for dynamic learning and practical language usage, personalized one-on-one coaching to address your unique challenges and accelerate your progress, and self-paced learning on our in-house platform, providing you with additional exercises, quizzes, and resources to reinforce your skills and delve deeper into new concepts.
8 weekly small-group sessions
24h
Each small-group weekly session is devoted to one major area of everyday conversation. It's the starting point to learn, practice and master new vocabulary, concepts and social codes.
Every session is based on a structured, stimulating and progressive learning process. Each person has a chance to speak and participate extensively within the group and gets personalized feedback from the teacher.
A learning booklet is issued and given to each participant at the start of each small-group class.
2 online private 1-on-1 classes
3h
Each session is entirely dedicated to addressing your unique priorities and challenges. Whether it's tackling persistent language difficulties, mastering specific topics, or adopting new learning strategies, your expert French language coach, Fabienne, has got you covered.
Fabienne will personally design a bespoke French curriculum for each of your 1-on-1 private sessions, ensuring you get the most out of your learning experience.
You can benefit from your 1-on-1 French classes, scheduled conveniently to suit your needs, all within a remote learning environment.
Online access to further challenges and resources
~30mn to 3h per session
After each session, you'll have access to exercises, flashcards, quizzes, and lots of helpful materials through our user-friendly online learning platform. These resources will supercharge your memorization and understanding of the new concepts from the class and give you the freedom to explore the related topics in even more depth.
And here's the cherry on top: our alumni continue to bask in unlimited access to our web app for at least one year after completing the program. So, you can keep refining your skills, revisiting lessons, and enjoying the language journey long after your FrenchBooster adventure ends.
Course Students
Learn with a
community of like-minded expats
Our students are open minded, curious and highly motivated expatriates or visitors with strong connections to France, coming from countries all over the world. They have various backgrounds (business professionals, entrepreneurs, MBA students, expats' life spouses/partners, freelancers…). Some have already been living in France for a long time, others have just arrived. An outstanding opportunity to meet like-minded people, share tips and even make new friends.
When joining our classes, you will have access to our dedicated Slack workspace where you will be able to easily connect with our network of incredible expat students.
Testimonials
The Novexpat
Quality
Our conversation class is the result of 5+ years of iteration and continuous improvement over 18 previous sessions of FrenchBooster programs given to 90+ alumni with a wide range of professional and cultural backgrounds, whether online or in-person.
The course flow has been optimized so that every participant within the group can speak as much as possible and get personalized feedbacks.
The teachers are native and qualified as a French teacher for foreigners. They are experienced in monitoring the whole process, facilitating the dialogue and ensuring that the timings are respected.
Learning French turns out to be a travel adventure. The classes are shaped with a definite structure that covers all the relevant subjects I want to be able to communicate about.
The classes are interactive and fun and the teacher is always positive and encouraging. I also enjoy using 'Neo', their education platform that has fun exercises that give great insights to the French language and culture.
I loved the variety of the French Booster. It was intense but I was never bored! The standard of teaching was outstanding. A very well devised course that I would recommend for anyone at intermediate level!
I did the FrenchBooster when I moved to Paris. I really enjoyed the course and learned a lot in a short time. What makes novexpat's lessons so fun is that they are about everyday life. What you learn is immediately applicable.
What a difference this class made. I felt more french and more confident with each lesson. Each week I learned useful everyday words and expressions that I used the minute I left the class.
Incredible! Very practical and helpful. My French friends have commented on my increased language confidence.
Highly recommend the Novexpat FrenchBooster class! Fabienne is knowledgeable and so supportive, and the small class size is ideal for learning and practicing conversation. The online component is also very useful and well done. Excellent class!
ℹ️
Novexpat quality process is checked and certified
We are committed to providing the highest quality of learning and student experience possible. That is why for the last 2 years, we have been committed to meeting the national Qualiopi quality standard. Our quality system and approach are regularly checked by an independent organization to ensure we reach the best standards of training organizations. We have been certified since 2021. The quality certification was issued under the following category of action: training actions.
Admission
How to apply to our FrenchBooster Program
Our free admission process will ensure you that the course 100% fits your needs and objectives. Start now!
Prerequisites

This course is open to French learning adults with lower to upper intermediate proficiency levels (A2 to B2 CECRL levels).

Book an interview with our program leader

When you apply, you will be able to schedule a 20 minute video interview with our program leader. We will talk about your situation, your expectations, your availability, preferred format (in-person or online) and your motivation. We will check that you meet the prerequisites to fully enjoy the class. Don't feel nervous about it, we'll make you comfortable!

Review & Sign Your Training Agreement

Once you confirm your interest, we will promptly send you a comprehensive training agreement that outlines the program's content, organization, and the applying terms and conditions. To finalize your enrollment, all you (and – if applicable – your company) need to do is review and sign it electronically.
Book a call now
FrenchBooster Program
840€ • 27h
Expert Native French Teachers

Embrace your French journey with Novexpat's supportive, creative, and qualified FLE instructors

Focused on daily life situations

Immediately leverage what you learn in each class to enrich your daily conversations.

Structured and practical

Experience remarkable progress with our highly structured and proven curriculum and teaching methodology.

Small groups

You have room to engage, speak and practice.

Online learning material and community

Keep life-time access to Novexpat platform and Slack

Financing options available

Flexibly manage your payments in up to 3 installments, individually or through your CPF, FAF, or company funding.
Book a free call with our program leader
The FrenchBooster Programme Syllabus
All you might want to know about the programme