1-on-1 FrenchUp courses
A step-by-step 1-on-1 French learning program designed to help you to manage confidently and purposefully all your daily-life social and work situations in an adequate natural French.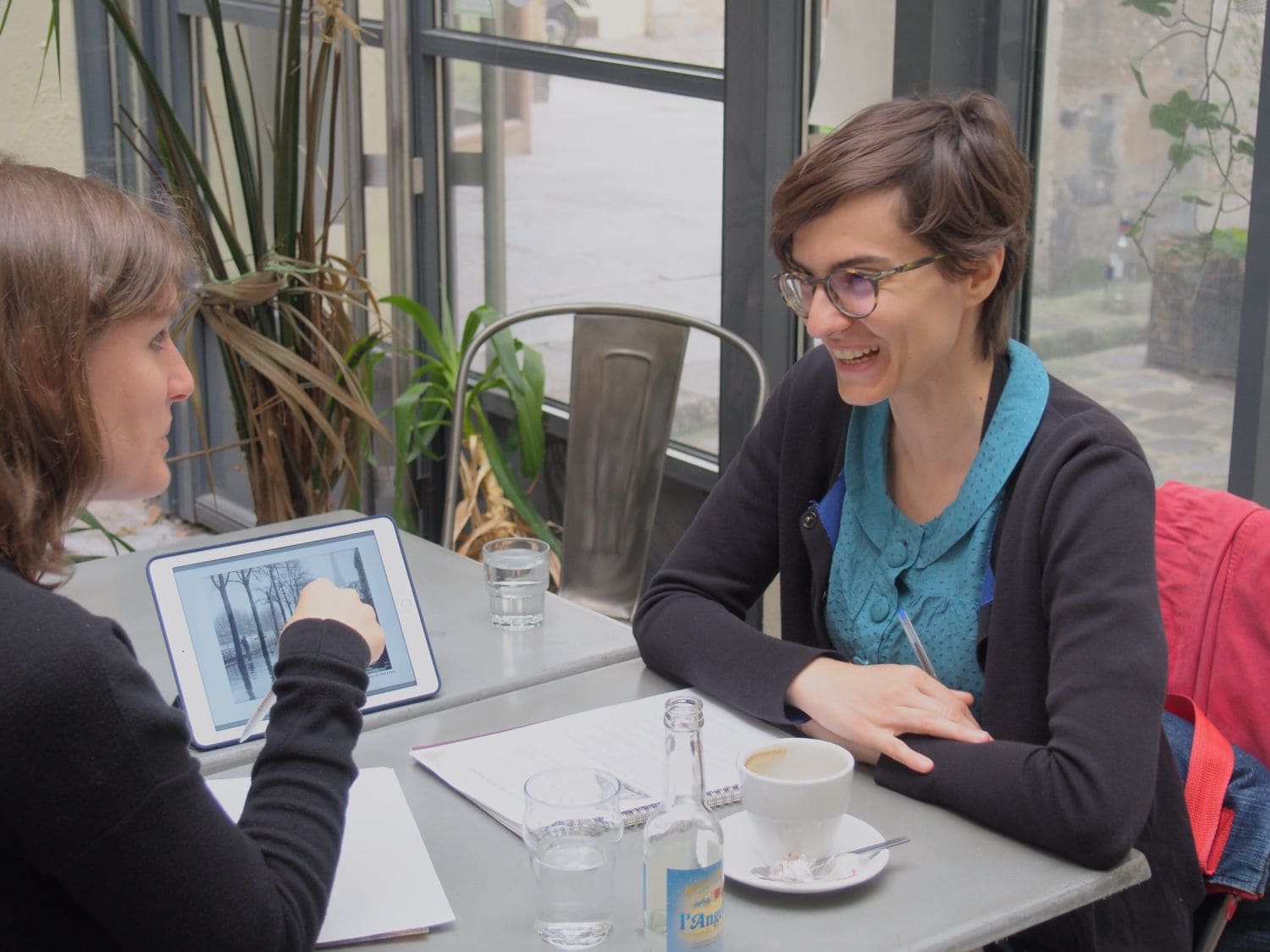 French level prerequisite:
Full beginners
Elementary (A1)
Lower intermediate (A2)
Intermediate (B1)
Upper Intermediate (B2)
Participants:
From 1 or 2 attendees
must be over 18 years old
Location:
Paris • La Défense • Saint-Germain-en-Laye
In cafés, at your office, at home or online
Rapidly and consistently expand your comfort zone in French
Based on our pedagogy, FrenchUp courses bring together the flexibility and customization of 1-on-1 French classes and the advantage of a well structured and gradual learning program with modern, relevant contextual learning material, resources and online tools.

Thanks to this powerful mix, you will rapidly be able to communicate naturally and purposefully with native speakers in all your daily social and professional situations.
Our FrenchUp courses can be attended by either individuals or a mini group of 2 learners (family, friends, colleagues...)
Main objectives

of the course

Learn and practice the French that you will be able to use on a daily basis

Starting with the first class, you will focus on learning, practicing and acquiring the very specific vocabulary, idioms and sentence structures that you will be able to use or be exposed to on a daily basis. Based on your current French level, you will be guided to gradually remove critical language barriers, allowing you to engage in clear, natural and appropriate French conversations in your social or professional contexts.

Speed up your adjusting process to Parisian culture & lifestyle

Engaging in new social interactions and building landmarks in a new environment and culture is a rewarding but highly challenging process. Each class of your FrenchUp course and further selected online resources will give you the opportunity to obtain valuable and leverageable insights into Parisian culture and lifestyle, to ask questions and to step back and increase your cultural intelligence.
Focus on your interests and specific needs
Expatriates in Paris share a wide range of similar situations. However, you may also have unique needs and priorities due to particular situations you may face as a father or a mother, as a professional or a diplomat. Your 1-on-1 FrenchUp course includes ad-hoc sessions so that all your priorities and interests are taken into account.
Capitalize on your training in the long run
We do not want your FrenchUp course to turn into a mere awesome memory. As an alum, you will enjoy a continued access to our online tailored platform to keep practicing your new language skills and explore additional up-to-date selected learning resources in complete autonomy. We maintain your access for at least one year after the end of your training.
Course learning journey
20 x 1.5h 1-on-1 face-to-face French classes
Guided homework, challenges & resources on our webapp
20 x 1.5h 1-on-1 face-to-face French classes
Each class is a stimulating opportunity to gradually, visually and actively address new French concepts.
Your dedicated native French tutor will guide you to master them phonetically, grammatically and socially though intense practice and participative learning activities, in a positive, supportive and engaging atmosphere.

Classes can take place at your home, office or at one of our selected quiet cafés in Paris, Saint-Germain-en-Laye or La Défense, from 08:00 am to 08:00 pm every weekday and Saturday, all year long.

We recommend that you have 1 or 2 classes of 1.5h a week.
Guided homework, challenges & resources on our webapp
Practicing outside the class is key to make swift and significant progress. Here's why, after each session, you have a continued access to optional online exercises, flashcards, quizzes, listening comprehension tests, helpful and practical resources to memorize, assimilate and delve further into the new concepts learnt during the class.

You will usually have ~15mn to 1h30 of guided online activities after each class.

Cherry on top : you keep an unlimited access to this content at least 1 year after your training comes to an end.
Course Organization
A combination of
3 complementary 1-on-1 session types
1-on-1 FrenchUp classes are a perfect combination of structured thematic sessions, 100% custom ad-hoc sessions and a final evaluation session. The number of each type of sessions depends on your current language level.
Thematic Sessions
18h to 24h
Each thematic 1-on-1 session is dedicated to a specific daily-life related topic that enables you to discover new French language and culture content that you will be able to reuse in your social and professional contexts right after the class.
A 4-page tailor-made booklet is issued, printed and given to you at the beginning of each thematic session.
Ad-hoc sessions
4.5h to 10.5h
Ad hoc sessions are designed to re-examine and keep practicing any concept that you have not yet fully assimilated or to explore relevant topics / objectives which are particularly relevant to you in your work environment or everyday life.
The more fluent you are, the more the curriculum includes such ad-hoc sessions and helps you reach your personal specific objectives such as being able to interact on topical news and events of an area of interest or professional domain, preparing for a particular situation or task in your social or professional contexts or being trained to take an official French certification (DCL, DELF, TCF).
Evaluation session
1.5h
Your tutor continuously assesses your progress and will provide any necessary adjustments to make sure that you keep right on track to the next French level.
You will also have an additional final evaluation session with a 45-mn written and oral test. You will then benefit from a live feedback and final wrap-up Q/A time with your teacher who will also advise you on the best way to keep leveling up and capitalizing on your training in the long run.
A gradual approach from full beginner to CEFR C1.1 level
Level assessment is based on the European CEFR framework. Our 1-on-1 FrenchUp courses curriculum cover all CEFR levels from A1 to C1.1 levels. Every individual French class is designed to consolidate and take your French skills to the next level.
During the application process, you will be invited to fill out our online assessment test and to schedule a meeting for a 1-on-1 interview with a member of our pedagogical team. It will enable us to accurately assess your current French level and to know exactly where you should start within our FrenchUp Course curriculum.
I really can't say enough good things about Novexpat. Over my ~5 years in Paris, I studied at multiple schools, meetups, etc. Novexpat was the best by far! Everything I was taught was super relevant, practical, and immediately useful.

Chris

Alumni 2019

Read our references
Fair tuition fees
No hidden costs: our tuition fees come with everything included, except any food or beverages you may consume for yourself during the class.
For third party funded trainings (except via CPF credits): the listed tuition fees do not include VAT tax.
1800€
total 30h package fee
with DCL Fle certification
All teaching and education material included

Unlimited access to our online learning platform for at least an additional year

Classes at home, in cafés, at your office or in remote

No extra fees on Saturdays or weekday evenings

+6€ per hour for any additional attendee
FrenchUp course • 27h

Specific preparation to the DCL FLE certification • 3h

Registration on your behalf to one DCL exam session in Paris

DCL FLE exam fees for one session included

+192€ for any additional attendee to register
Ready to power up your French skills?
For deeper insights and more Q/A about the 1-on-1 FrenchUp Courses before applying:
Download syllabus
To get started, you can complete our free and non-binding application process. We will get in touch with you to schedule a free interview to meet each other, make sure the program suits your goals and needs and answer any specific questions you might still have.
Please allow a usual delay of up to 8 days between your interview and the actual start of your course.
Apply now
For deeper insights and more Q/A about the 1-on-1 FrenchUp Courses before applying:
Download syllabus
1-on-1 FrenchUp courses syllabus
All you might want to know about the programme