Level up your French skills faster
Our mission is not just to pair you up with awesome fully skilled French native teachers. We've been designing and delineating French learning programs, inspired by a practical approach and based on a proven structured, modern pedagogy so that you can rapidly become able to manage with confidence all your daily social or business situations in a natural and fluent French.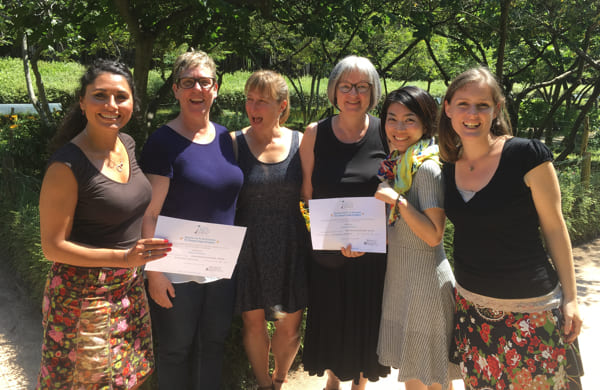 A practical approach to French
As an expatriate in Paris, you face various common daily situations - at work, in the shops, at your children's school, in your neighborhood, in the streets, in the French administration, in society, at home,... - in which you woud like or need to rapidly be able to interact with confidence in a natural and proper French.
That's why every lesson of our French courses aim at helping you to learn and practice the very vocabulary, language and social concepts that will be specifically and immediately useful in your daily life and will speed up and soften the usual adjusting process to your new living, work and social environment.
A structured and modern pedagogy
No improvised French lessons with us. Our French courses are backboned by a structured and cutting-edge pedagogy that has been successfully deployed and iterated over 8250+ hours since 2017. It lays on 3 core features:
Contextual and custom learning material, based your Parisian reality
1
Our learning material is selected and customised to fit with your specific language priorities and progression and so that the content learnt during each class is fully and genuinely actionable in your Parisian everyday social or business life contexts.
A strong focus on building fluency and confidence
2
Every session is based on a very gradual, visual and participative learning practice. This process makes it easier for you to discover new content and master it phonetically, grammatically & socially, as well as to practice it extensively so that it rapidly becomes more natural.
A tailored online learning plateform
3
After each session, through our dedicated online learning plateform, you will get easy & unlimited access - at least up to 1 year after the end of the training - to the content of your face-to-face class, further related exercises, quizzes & learning resources designed to help you memorize better, assimilate faster and delve further into selected topics.
Pairing you up with super skilled and passionate native tutors
Our French classes are performed by our small team of native French teachers, each of them being selected for their outstanding personality and interpersonal skills, excellent teaching skills and integrity. We will pair you up with the tutor whom we believe to be the most adapted to your learner profile.
Our teachers are native, highly skilled and qualified French teachers for foreigners. They all have a valid and checked qualification as FLE teachers or having a minimum 6-year teaching experience with professionals. They are all able to speak English as well.
Novexpat's tutors show awesome interpersonal skills. They are driven by a lively and infectious passion for the French language and culture and for Paris. They are great listeners, creative, professional and involved in their students' accomplishment.
Each member of our tutoring team is specifically trained to our pedagogy and programs learning materials which they enrich by their own skills and talents. They can lean on our senior lead pedagogy coordinator's expertise all along their classes.
We always look for Talents. Apply now
We are committed to excellence
Over the past 6 years, we have been improving our curriculums, learning materials and tools to match our students and customers' needs and offer a frictionless, stimulating and efficient learning process.
Combining our structured French courses and pedagogy with the excellence of our tutors requires a close pedagogical and quality process coordination all along our missions. Fabienne Defaux, co-founder, 12-year experienced French teacher for foreigner and program coordinator, backs all our tutors in their missions and leads the quality process for a successfull learning experience and a continuous improvement of the way we deliver our French teaching services.
We are listed on the French Datadock systems as we comply with all the expected quality requirements, which enables you or your HR officer to request subsidy from your OPCA.
Fabienne (left) leads the programs and pedagogy engineering team. Pierre-Yves (right) coordinates the development of the online learning tools.