Meet our experts through free masterclasses
Start your French learning journey with our free online masterclasses.

We organise outstanding learning events all year long with our best experts to help you boost your French skills and confidence.

Whatever your current level, situation and location, you will find a useful and practical workshop for you!
Discover our online masterclasses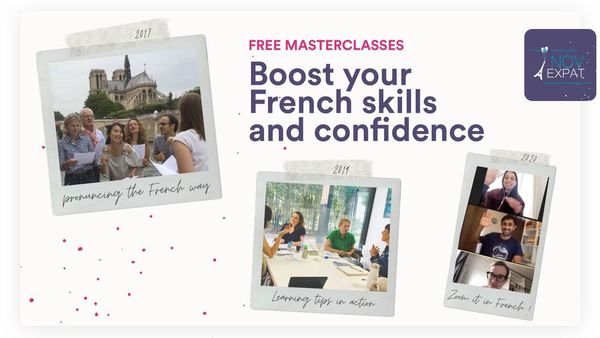 You can currently attend 1 event
Please, note that prior sign-up is required to attend any of our free workshops. If the event is already marked as full, you can add yourself on a waiting list. You will receive a notification via the Eventbrite app in case there are some availabilities.
[ONLINE] How To Break Through Your French Fluency Plateau
As a non-native French speaker, have you ever felt like your progress have been slowing down and reaching a kind of plateau?
You do have some solid basics, a good range of vocabulary and sentences structures, you can make correct sentences... Despite all your efforts though, you keep communicating in the same way as you always did.
This phenomenon is common a... Read more
Tuesday 8 June 2021
11:00 - 12:15 (Paris Local Time)
Online
I join now
Don't miss

our next masterclasses

Make sure you don't miss any of the future masterclasses we will be hosting by joining our dedicated Meetup group. You'll receive notifications from the Meetup App as soon as we post a new event!

Join 1310+ followers on Meetup

Alternatively, you can subscribe to our newsletter !