Online
Conversation Classes
Flexibly keep practicing and improving your French through structured and guided conversation classes on French topical subjects or everyday life topics, with a small group of like-minded expats.
3 groups currently open to application • See details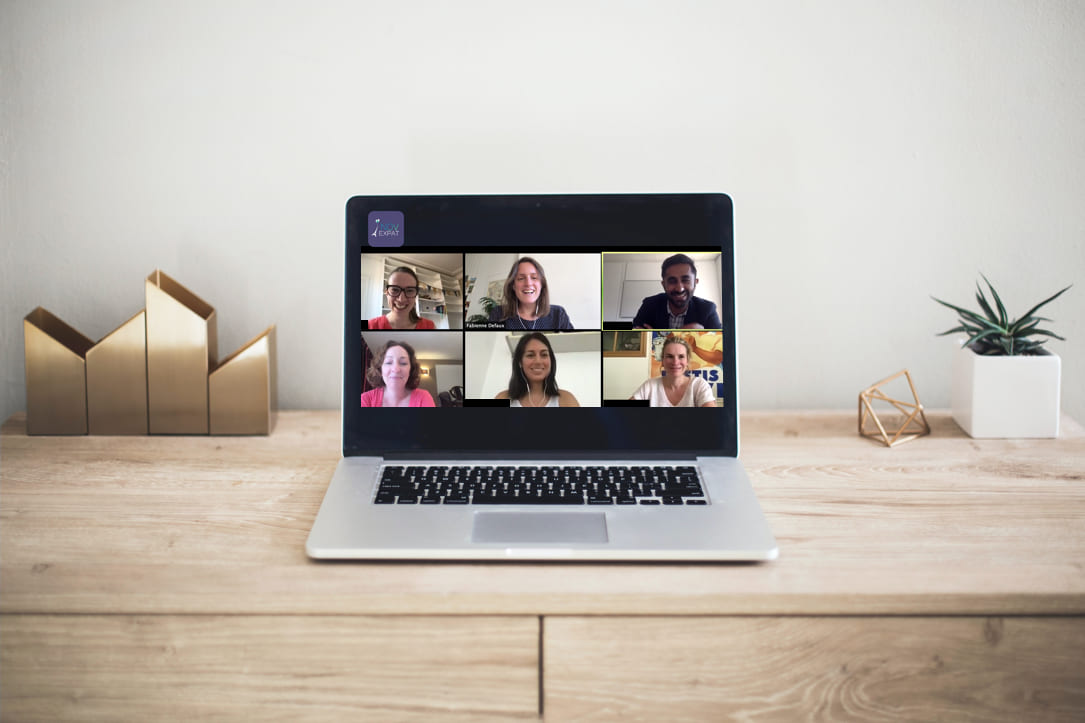 Duration:
Commit for 1, 2 or 3 weeks
2 x 1-hour sessions a week
French level prerequisite:
Lower intermediate (A2)
Intermediate (B1)
Upper Intermediate (B2)
Participants:
3 to 6 participants per group
must be over 18 years old
Location:
Online at Paris local time

Our Online French Conversations Classes in short
Offer a solid
shot of energy and authenticity

to your French

Our mini-group online French conversation classes are a great opportunity for expats or future expats with busy schedules to practice and improve their French twice a week in a pleasant, flexible and structured way, on carefully chosen French-life-related topics. Wherever you are and whatever your social distancing with native speakers, the French conversation classes will help you continue to improve your French while staying connected to the Parisian culture and society.
All the participants live in Paris or are strongly connected to the Parisian life
for professional or personal reasons.
A structured blablablabla class
Each class is devoted to a selected French topical subject or everyday life topic.
© Illustration by our alumni
Limo
for Novexpat
A native teacher will teach you functional, useful and appropriate vocabulary, expressions and grammar structures
You will then practice it through guided pair conversation activities
You will get personalized feedback and tips to keep leveling up your French
You keep access to the content of the class with some additional resources on Learn, our dedicated online plateform.
Fabienne's lunchtime online conversation course is a great way to build upon and challenge your existing skills. The small group, friendly atmosphere, and online review tools are really helpful. Fabienne is extremely patient and well-prepared [...]
Fabienne is a great teacher and hosts a class which has a good balance of structured learning in 'every day' French (focusing on a specific topic each time) and giving us all an opportunity to talk in class. All in all very enjoyable and practical. Highly recommended!
I really enjoyed learning french with Fabienne! The conversation courses are very well structured, topics explained in an easy way! Learning new phrases and taking them into a practise directly during the course made them to sit in my head:). Friendly and enjoyable learning with a great teacher!
Classes are incredibly useful and pleasant at the same time. Weekly conversation classes give just the right amount of push to help even the people on busy schedules to gain confidence. Throughout the well structured lessons I have the occasion to put French into practice and hold conversations of various lengths and complexities with like-minded people.
Yasemin
Alumni Winter 2021
I have been taking the course for several weeks and it is helping me improve my French so much. The online classes are small and the structure allows for you to practice what you are learning conversationally. Fabienne is very patient and really knows how to teach! Highly recommend!
Our students are open minded, curious and highly motivated expatriates or visitors with strong connections to France, coming from countries all over the world. They have various backgrounds (business professionals, entrepreneurs, MBA students, expats' life spouses/partners, freelancers…). Some have already been living in France for a long time, others have just arrived. An outstanding opportunity to meet like-minded people, share tips and even make new friends.
Flexible in essence
Each group conveniently meets twice a week at the same time for a 1 hour online conversation class

, i.e. 2 hours per week.
Book a seat in your preferred group on a per week basis for 1, 2 or 3 consecutive weeks.
Subject to availability, you can change groups every week if it's more convenient for you!
Available groups
Fair tuition fees
No hidden costs: our tuition fees come with everything included.
You can commit and pay on a per week basis, for 1, 2 or 3 consecutive weeks.
You can easily and safely pay your conversation lessons online via your debit card. You will automatically receive a receipt. We can also send you an invoice if your classes are funded by a third party organization. Just let us know when you apply.
All inclusive weekly tuition fees for 2 classes

Access to Learn, our online education platform for our conversation classes

Pay online with a debit card with no additional fees
Ready to have exciting and structured conversations in French?
Show us your interest starting our free and non-binding application process. We will get in touch with you to make sure this programme will 100% fits your situation and needs and to successfully finalize your registration.
Please allow a usual delay of up to 8 days between your interview and the actual start of your course.
Apply now