Unlock your French

remotely or in a hybrid format.

In this period of long-term sanitary crisis, we migrated all ongoing and upcoming FrenchUp and Bespoke French classes to a remote learning environment that offers an engaging first-rate learning experience.

Individual face-to-face classes can be also run on-site in compliance with sanitary measures or in a hybrid format.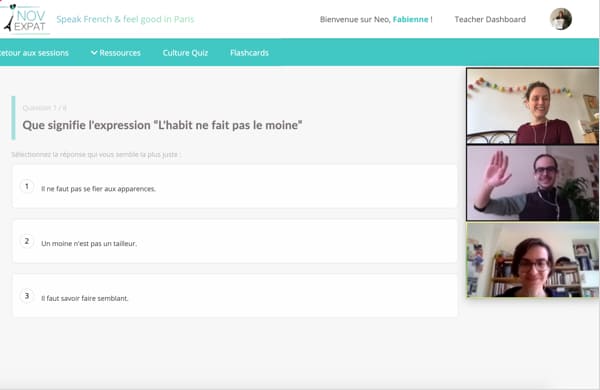 Our
remote

learning experience in

3

steps
Step 1

| Join your teacher in a virtual classroom

Have structured, highly interactive and stimulating French classes in a virtual classroom environment, face-to-face with your teacher, at a scheduled time you both previously agreed on. Your teacher will keep following your initial learning programme as if you were face-to-face: the methodology, the contents of your classes and the material used will remain unchanged.
We use high-quality Zoom services, which will be free to use for you and can be downloaded on your desktop or any mobile devices.
Step 2

| Practice your new skills on our webapp

Practicing outside the class is key to make swift and significant progress. Here's why, after each online session with their teacher, our students have a continued access to selected additional guided online activities to memorize, assimilate and delve further into the new concepts learnt during the class.
Our webapp is tailored and coded in-house to perfectly fit our students needs and priorities.

Read more about our education approach
Step 3

| Join a conversation group online once a week

During this exceptionnal lockdown period, it's harder to practice French in real life situations. Here's why we organize two free additional 45-mn guided conversation group meetings once a week - one for beginners and one for intermediate levels - for our community of students. The meeting is an opportunity to discuss a selected topic related to the news and to practise your French speaking and comprehension skills within a whole group and peer to peer.
Your remote
toolbox

We selected Zoom as our reliable virtual classroom provider. All you need to do is have a correct Internet connection, download the desktop or mobile application and create a free account. That's it! You should check beforehand that your camera and audio do work with your device. We advice you to use headphones with micro for a better sound experience.
Download Zoom now

Our student receive private access to our webapp as soon as their first class and are shown by their teacher how to use it.
You need a modern browser and javascript enabled to use all the learning features.