We answer your key questions
You may have some remaining questions related to the application process, the policies about our French programmes and packages, the organisation of your French classes or other specific questions.

You'll find below the answers to a short-list of questions that we are frequently asked by our students and customers before they commit to our French lessons.
Browse questions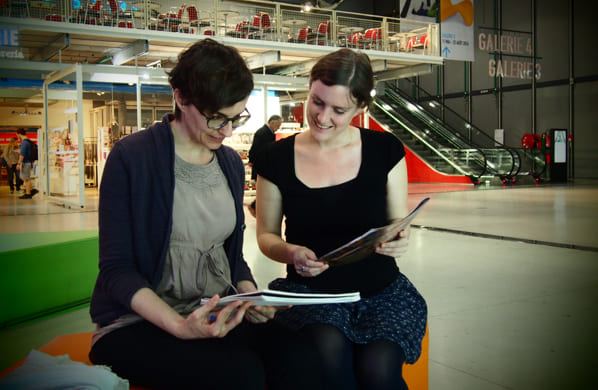 Overview of our FAQ categories
You can click on the categories below to directly jump to the related questions.
S'inscrire à un cours de français
Tuitions fees, Payment methods & General Conditions of Sales
Financing, Accommodation & Visas
General questions about our French classes
Specific questions related to the FrenchBooster Programs
Specific questions related to the Bespoke French Classes
Qualité
Apprendre le français
S'inscrire à un cours de français
Back to categories
How to show interest and apply to a French class?
It's simple as pie! Go on the programme page in which you would like to get involved and click on "apply now" button. We will require you to fill in our application form and describe shortly your context and motivation. We'll contact you back then, usually within a day, to offer you a ~30mn interview in Paris or via Zoom to get to know each other better, understand better your needs and assess you current French level so that we make sure the programme perfectly matches your expectancies, and answer any questions or doubts you might still have regarding learning French. Of course, It's free and non-binding! If we both want to start together the French classes, we'll send you a contract and a quote. And then, enjoy! 😉
I am under 18 years old, can I apply?
You need to be 18 to enroll for the course. However you can apply if you are 17 as long as you turn 18 before the start of your French programme.
As soon as I apply, how long does it usually take before I can start the course?
As soon as you apply, our pedagogy coordinator will contact you to plan an interview. As soon you confirm your wish to learn French with us through a specific French course, we will need some time to finalize your administrative onboarding, to pair you up with the teacher who will fit best your profile and situation and organize your first session. For individual classes, it's safe to allow a usual period of 8 days between your interview and the actual start of your classes. For group classes, 5 days are usually enough!
Tuitions fees, Payment methods & General Conditions of Sales
Back to categories
How much is a French lesson?
Well, it depends on the programme you would like to attend! Have a look on each programme dedicated page on the site to check the related tuition fees! Please note that these fees are only valid for private individuals who finance by themselves their training. Different prices apply for businesses and externally financed trainings. You can contact us for more details.
What payment methods do you accept?
We accept payment by bank transfer (any extra fees are your responsibility) and cheques in euros. We issue an invoice prior to any payments.
Will I have to buy any additional French textbook for my French lessons?
No, we will provide you with all the necessary learning material as well as the access to our online learning platform, Neo. Everything is included in your tuition fee.
Financing, Accommodation & Visas
Back to categories
Can I use my CPF to help me financing my French classes?
If you own a CPF (Compte Personnel de Formation), you may then ask for a financial grant from the French State to help you to fund your training. As an authorized training organisation, our 1-on-1 French classes might be eligible to it as soon as you prepare an official French exam like the Diplôme de Compétences en Langues. If you don't know whether you have a CPF, please, just ask your HR manager. You can also find more information on our dedicated page.
Can my company or spouse's company help me funding my French classes?
Your company or spouse's company, when based in France, might have a training plan to help you to improve your French while you are in France. As a company which paies taxes in France, your company has the opportunity to raise funds granted by their OPCO to cover totally or partially your own training fees. As we are an authorized training school, our training offer is eligible to get financed by the OPCO and therefore, by your company. You definitely should ask your HR or mobility manager for this! If you have any further questions regarding how to proceed, contact us!
Do you offer accommodation for visitors who take classes?
We don't, as we can see that our students prefer to look by themselves the right accommodation according to their budget and preferences. It's so easy nowadays with Internet!
As Parisians, we can provide you however with insider tips to help you find and book the best accomodation in town! Just tell us what you're looking for!
Do you I need a visa to have French classes in Paris?
We invite you to ask your closest French consulate to check wether you need a visa to learn French with us.
Do you help the students who needs a French Visa for Students ?
We do not currently provide any assistance to non EU residents for French Visa requests. We invite you to check with your embassy to know whether you are allowed to attend the training with a Tourist Visa. In general, we strongly advice you to get prior information before asking any French schools for a non-refundable certificate of pre-registration, as there is no certainty whether you will be granted a mid or long-term Visa in France.
General questions about our French classes
Back to categories
I am disabled. Do you provide adapted adjustments to your French classes?
Yes, we do. We try to do our best to serve anyone with disability, whatever the degree of disability. All you need is to share with us what kind of disability you have and, if possible, what adjustments you would think you need to follow your classes in the best conditions. You can read more on our dedicated page. If you have any additional questions, feel free to call us before you apply!
Je vais commencer un programme. Comment puis-je me préparer ?
Buvez de l'eau et reposez-vous 😉! Votre professeur va vous accueillir et vous guider dès les premières étapes de votre programme !
Ai-je besoin d'acheter un manuel ?
Non, nous vous fournissons tous les supports matériels conçus à partir de notre méthode ainsi que l'accès à notre plateforme en ligne.
Specific questions related to the FrenchBooster Programs
Back to categories
Will I receive anything at the end of my course?
At the end of your course you can get a French language certificate that shows your level and the number of course hours you have done.
Where does the lessons take place ?
It depends on the programme you choose. More generally, we believe that the environment and the atmosphere of the place where happen the lessons are important for a more immersive experience as well as for the memorization of the new learnings!
For mini-group French classes, the French lessons usually take place in a art gallery ideally located in Paris and well adapted to our classes.
For private French classes, we adapt first to our availabilities and context (at the office or at home). We also selected some quite and very Parisian cafés to learn in a more relaxed and inspiring atmosphere. It's also a great opportunity for you to discover some good spots in Paris. 😉
We also offer French lessons in Parisian museums. Just ask our team for it!
Specific questions related to the Bespoke French Classes
Back to categories
Où se passent les cours ?
Cela dépend du programme que vous choisissez. Nous pensons que l'environnement et l'ambiance du lieu de cours sont importants pour l'immersion et aussi la mémorisation ! Pour les programmes de groupe, les cours ont lieu dans une galerie d'art idéalement située et parfaitement adaptée à nos cours. Pour les cours individuels, on s'adapte avant tout à vos possibilités (au bureau ou à domicile) et vous proposons également une sélection de cafés calmes et 100% locaux pour apprendre dans une atmosphère détendue et inspirante. C'est aussi l'occasion de vous faire un petit carnet de bonnes adresses parisiennes 😉 À la demande, nous vous proposons aussi des cours dans les musées parisiens.
Je souhaite aller dans les musées pendant mes cours.
Les cours dans les musées permettent de pratiquer le français à travers l'observation et l'interprétation d'œuvres d'art. Ces sessions sont l'occasion de pratiquer votre français autour de sujets liés à l'Histoire, la philosophie, l'art… C'est une expérience très immersive qui vous aidera à aller plus loin en français mais aussi d'en apprendre plus sur la culture française. Vous pouvez intégrer ces sessions dans votre programme à la demande. Fabienne, la conceptrice pédagogique, sera votre professeur pour ces sessions. N'hésitez pas à la solliciter, elle adore ça !
Qualité
Back to categories
Vos professeurs sont-ils qualifiés ?
Oui et en plus ils sont géniaux et très sympas ! On les a d'ailleurs on-boardé pour cette raison… on aime travailler dans une super ambiance 😊! Ils sont donc diplômés, expérimentés et plein de qualités personnelles (humour, patience, bienveillance…). Ils partagent notre vision de l'enseignement. Ils adorent faire vivre la méthode Novexpat et l'enrichir de leur propre style et techniques personnelles. Ils adorent l'aventure humaine dans laquelle chaque programme les embarque !
Are you involved in any official French quality process ?
We do! We are registered in the Datadock. So, our French classes offer is validated by the OPCO. As a consequence, you may be able to ask your OPCO for a financial help to finance your French classes. You can use the NAF code written on your salary slip to find out which OPCO you depend on.
We are currently involved in the Qualiopi Certification process.
Apprendre le français
Back to categories
Je n'ai jamais réussi à apprendre le français ! Est-ce que ça vaut la peine d'essayer ?
Tout d'abord, pourquoi n'avez-vous pas réussi ? Il y avait beaucoup de monde dans la classe et vous ne pouviez pas pratiquer ? Les sujets étaient ennuyeux ou abstraits et vous ne vous sentiez pas concerné ? L'approche était trop théorique et vous ne compreniez pas l'application concrète ? Malheureusement, toutes ces situations peuvent bloquer l'apprentissage ou faire perdre confiance dans sa capacité à apprendre et à progresser. Mais ce n'est pas une fatalité ! Donc, oui, ça vaut définitivement la peine d'essayer avec une méthode qui valorise vos forces et vos acquis et vous aide progressivement à aller plus loin ! Vous vous rendrez rapidement compte de vos nouvelles capacités et reprendrez confiance !
J'ai le sentiment de stagner en français. Comment faire ?
Quand on apprend une langue étrangère, il y a malheureusement des moments où notre progression ralentit et atteint un plateau. Vous avez du vocabulaire, de bonnes notions des structures grammaticales, vous faites peu d'erreurs mais vous prenez toujours le même chemin pour exprimer vos idées.
Cette étape est naturelle parce que nous avons tous un cerveau un peu paresseux. Il aime aller au plus simple et réutiliser ce qu'il connaît déjà.
C'est donc le moment de mettre de la volonté pour s'exposer, mémoriser et appliquer de nouvelles structures et expressions idiomatiques. La méthode en classe et la plateforme Neo sont conçues pour vous accompagner et vous encourager dans cet effort !
Nous organisons régulièrement un atelier, libre d'accès, spécifiquement axé autour de cette question. N'hésitez pas à consulter notre page Évènements pour en savoir plus.
Je parle trop lentement et j'ennuie mon interlocuteur…
De votre mémoire à vos lèvres, le chemin peut être long. Plus vous pratiquerez votre français, plus vous ferez cet aller-retour et donc plus les mots viendront spontanément. Donc avant de vous inquiéter de la patience de votre interlocuteur, soyez patient avec vous-même 😉 Par ailleurs, des méthodes telles que la pratique intense, l'association entre le nouveau et le connu, l'utilisation de flashcards… aident à s'entraîner en effectuant cet aller-retour entre la mémoire et le réemploi.
Ohlala, les Français parlent trop vite… je ne comprends rien !
Oui, les Français peuvent parler vite… Toutefois, le principal problème est souvent le rythme et les enchaînements entre les mots. Les Français n'accentuent pas chaque mot (comme dans la majorité des autres langues), ils accentuent une phrase. Donc, quand nous prononçons une phrase, vous entendez un mot ! Vous devez donc entraîner votre oreille à ce nouveau phénomène ! Notre méthode vous aide à vous y adapter dès les premiers cours !
Je parle bien français mais les Français ne me comprennent pas…
Cet écart est souvent dû au rythme et à la « mélodie » de votre français. Vous avez déjà entendu un Français qui parle anglais mais n'accentue aucun mot et place seulement un accent à la fin de la phrase ? C'est très difficile de le suivre… Inversement, les Français ont du mal à comprendre lorsque l'on saccade la phrase et accentue chaque mot. Malheureusement, peu d'écoles prennent en compte la prononciation. Toutefois, cette difficulté peut être travaillée efficacement en séances individuelles.
Dans ma langue maternelle, j'ai beaucoup de conversation ! En français, je m'exprime comme un enfant…
Eh oui, c'est très frustrant ! Vous avez l'impression que vous ne pouvez pas vraiment exprimer votre point de vue ni vos connaissances. Vous n'avez pas les mots pour dire tout ce que vous pensez. Évidemment, cette difficulté s'estompe au fur et à mesure que vous apprenez du vocabulaire et maîtrisez la structure du français. De notre côté, on a développé nos curricula et nos supports en fonction des sujets d'intérêts et courants dans les conversations parisiennes pour vous aider à vous sentir plus rapidement à l'aise et pertinents en français. Les professeurs peuvent également adapter facilement les contenus à votre contexte de communication et vos centres d'intérêts. On s'assure ainsi de vous donner les moyens de participer activement et avec de plus en plus de précision aux conversations auxquelles vous pouvez participer.