Bespoke French classes
100% tailor-made French classes to match your unique challenges, specific goals, priorities and needs.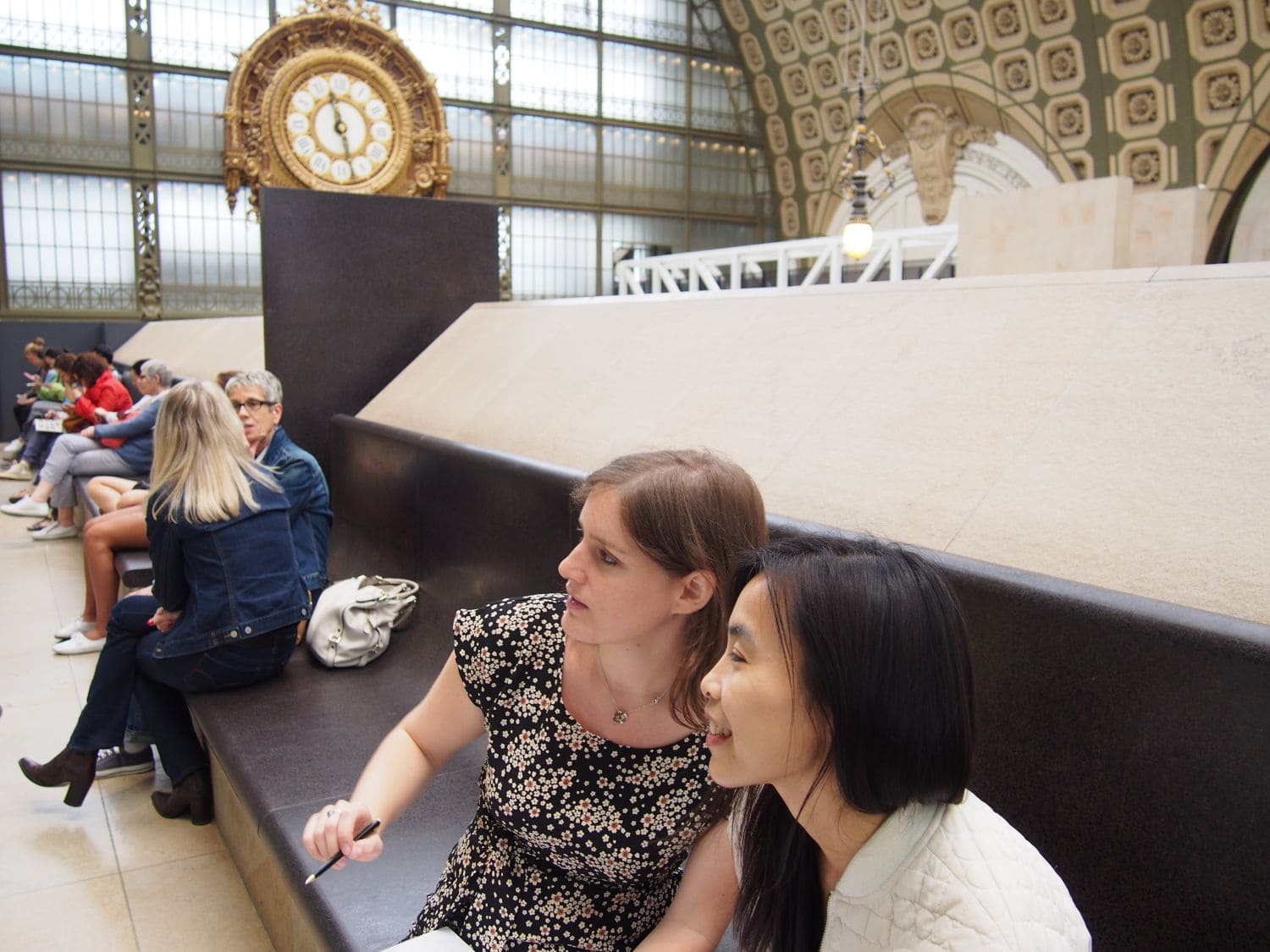 Duration:
Minimum 12 hours
French level prerequisite:
Participants:
From 1 to max. 8 attendees
must be over 18 years old
Location:
Paris • La Défense • Saint-Germain-en-Laye
on-site or online
French lessons designed to
meet your unique and precise contextual goals

, at your own pace

Our 1-on-1 FrenchUp courses may not completely address your unique goals, specific context or particular French difficulties. That's when our bespoke French classes come into play. After a initial free interview that will allow us to accurately understand your priorities, situation and needs, we will be able to design the most relevant and custom French learning course based on our structured, pragmatic and modern pedagogy.
Our Bespoke French classes can be attended by either individuals or a small group of learners (family, friends, colleagues, members of an existing community)
Tell us your main objective. We will help you to reach it
Unlock specific French skills
Practice & learn French during your visit in Paris
Learn French for business
Prepare for a French certification
Unlock specific French skills
If you face a specific French challenge (grammar, pronunciation, comprehension, vocabulary and sentences for a particular situation), we can help you through adapted and personnalised French coaching classes.
Practice & learn French during your visit in Paris
We welcome visitors and their families who may want to make the most of their visit to Paris to practice and improve their French.
Our French classes usually take place in trendy but calm Parisian cafés. They can also take place in Parisian museums.
You'll have lot of French practice with a dedicated French teacher while familiarizing yourself with the city and social codes.
Learn French for business
Have some French classes with us to master specific French vocabulary, sentences, writing skills or social codes required in your business context.
Our pedagogical engineering team can design a French course adapted to your business field, position and challenges.
We help entrepreneurs and job-seekers too.
Prepare for a French certification
A French certification can definitely give you an edge to strengthen your marketability worldwide and enhance your working conditions. It can be also required for French naturalization and accessing French universities or schools.
We can prepare you for the DCL, DELF or TCF exams.
A structured and practical approach to French
All our bespoke French classes involve a gradual and visual approach to teaching you the vocabulary, concepts and learning strategies that will be immediately useful in your specific situation.
No improvised French lesson with us. Each class is structured so that you can repeat and extensively practice the new concepts. After each class, you have full access to our tailored online learning plateform to review your new learning and assimilate it faster.
Our French tutors are fully skilled and passionate French native teachers. They are experienced with the Novexpat pedagogy to implement your custom French course and can adapt it according to your progress and new priorities if necessary.
Discover our education approach
Fabienne and the Novexpat team are changing the way people learn French. I can't say enough about how much and how quickly I learned - and how enjoyable the lessons have been!

Heather

Alumni 2018

Read our references
Fair tuition fees
No hidden costs: our tuition fees come with everything included, except any food or beverages you may consume for yourself during the class.
Our fees are per hour (60 minutes). A minimum package of 12 hours is required to start a Bespoke French class.
For third party funded trainings (except via CPF credits): the listed tuition fees do not include VAT tax.
63€
per hour
with DCL Fle certification
All teaching and education material included

Unlimited access to our online learning platform for at least an additional year

Classes at home, in cafés, at your office or in remote

No extra fees on Saturdays or weekday evenings

+6€ per hour for any additional attendee
Overcome your main difficulties and consolidate your current French level • 9h

Specific preparation to the DCL FLE certification • 3h

Registration on your behalf to one DCL exam session in Paris

DCL FLE exam fees for one session included

+100€ for any additional attendee to register
Ready to power up your French skills?
Show us your interest starting our free and non-binding application process. We will get in touch with you to schedule a free interview to meet each other, understand your priorities, situation and needs and answer any specific questions you might still have.
Please allow a usual delay of up to 8 days between your interview and the actual start of your course.
Apply now