FrenchBooster Summer Intensive Programme
Summer Intensive Course Paris
10 days to get able to have natural conversations with native French speakers on any daily-life related topics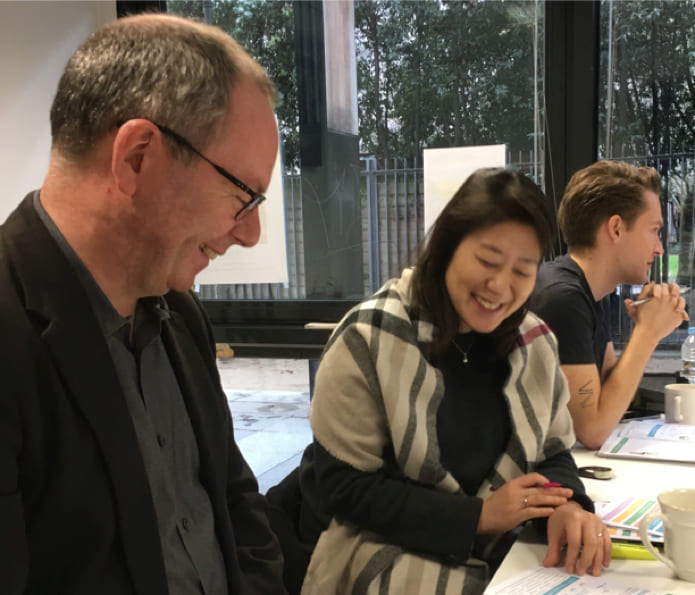 Since 2018, our FrenchBooster Programmes help expatriates in Paris to rapidly scale up their conversation and comprehension skills as well as their understanding of the French cultural and social codes to get able to connect easily with French native speakers and adjust better to the Parisian society.
This 10-day intensive course is suitable for expatriates as well as short-term visitors in Paris.
Levels prerequisite:
Lower Intermediate (Minimum A2)
Intermediate (B1)
Upper Intermediate (B2)
Location:
Paris - on site
Attendees:
4 to 8 participants per group
must be over 18 years old
Programme main objectives
Learn, practice and assimilate pragmatic and natural vocabulary, idioms, sentence structures that you will be daily exposed to and as used by French native speakers
Improve significantly your French comprehension skills and adopt a correct French accent and pronunciation
Learn valuable and leverageable insights on the Parisian society and lifestyle
Break through your French fluency plateau to strike and sustain conversations that matter with more confidence and spontaneity
Programme curriculum
The FrenchBooster Program Summer intensive course is an intensive learning program over 10 days that mixes the benefits from daily small group sessions with highly participative activities and individual work on our NEO learning webapp to rehearse and delve further into the new concepts.
10 small-group morning sessions

35h

| 9h30-13h

French small-group morning sessions

Each small-group daily session is devoted to one major area of topics for natural everyday life conversations, as any Parisian would have. It's the starting point to learn, practice and master new vocabulary, concepts and social codes.

Every session is based on a structured, stimulating and progressive learning process. Every attendee has a chance to speak and participate extensively within the group and gets personalized feedback from the teacher.

1 Pronunciation coaching workshop

2h

| 17h30-19h30

French pronunciation coaching

This workshop mixes French teaching and vocal techniques to help you to grasp and reproduce for good the tricky French sounds and melody.

You will learn to adopt the right tone and accent that will make you more easily understood by the locals.

No matter how you sing to fully take advantage of this highly participative and fun workshop experienced by more than 200+ students since 2017.

Unlimited access to additional online challenges and resources

~30mn to 3h

| after each session

Neo, our French learning plateform

After each session, you will have access to exercises, flashcards, quizzes, helpful and practical resources to memorize and assimilate the new concepts learnt during the class & delve further into the related topic.

Neo provides you with optional guided homework and further French culture and society resources that will help you take a maximum advantage of your French lessons.

Our alumni keep having an unrestricted access to Neo at least 1 year after their programme ends.

Download
Full Syllabus
Fabienne and the Novexpat team are changing the way people learn French. I can't say enough about how much and how quickly I learned - and how enjoyable the lessons have been!
Heather
Alumni 2018
Our students are open minded, curious and highly motivated expatriates and visitors, coming from various countries all over the world. They have various backgrounds (business professionals, entrepreneurs, MBA students, expats' life partners, freelancers…). Some have been already living for a long time in France, others have just arrived or are visiting. An outstanding opportunity to meet like-minded people, share tips and even make new friends.
Additional 1-on-1 French classes (optional)
If your are a short-term visitor in Paris, your FrenchBooster morning sessions will leave you with plently of time to travel around the city.
If you wish however an even more intensive French learning immersion, you can choose an additional 10-hour 1-on-1 lessons package with a private French teacher.
A great way to tackle with your main language priorities and challenges: specific French language difficulties, topics that particularly matter to you, adopting new learning strategies, practicing even more your French…
No way to stay inside a dull and boring classroom however! Lessons usually take place at selected trendy but calm Parisian cafés or even at a Parisian museum.
Additional Fee for an optional 1-on-1 classes package (10h)
580 €*
* All our prices include VAT for individuals and exclude VAT for businesses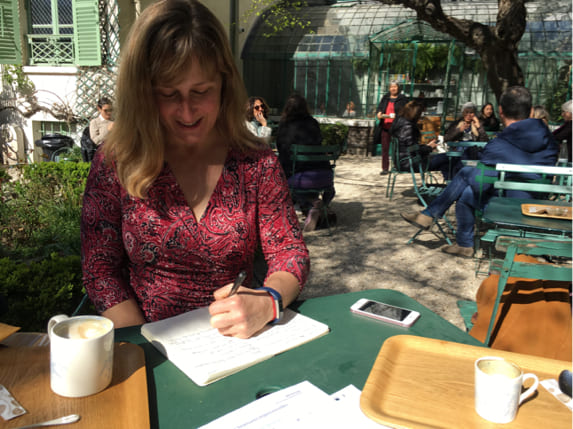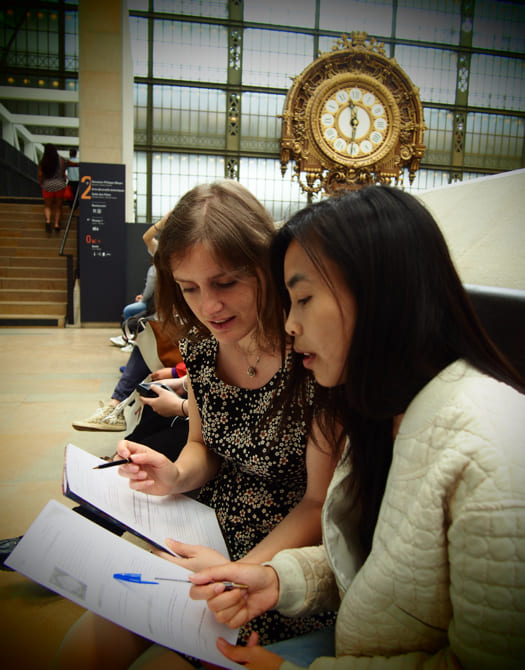 So ready to take your French to the next level ?
* All our prices include VAT for individuals and exclude VAT for businesses
The FrenchBooster Programme Intensive Summer Course Syllabus
All you might want to know about the programme
Free Introduction Workshop
1 event currently scheduled
→ Come and meet our team → Experience the pedagogy → Get personalized feedback
Friday 29 November 2019, 19:30
🎤 Singing in French in Paris / Chanter en français à Paris
📎WHAT IS IT ABOUT?
Our Singing in French event is a workshop designed for non-native French speakers who want to grasp tricky French sounds and improve significantly their French pronunciation, find the appropriate tone in French conversations, explore songs from the most popular French musical repertoire and meet like-minded expats! We'll be using great French teaching and singing techni... Read more